10 Sites Within A 6 Mile Bike Ride
In the spirit of being a bike-friendly location, with plenty of open space to explore, easy access to scenic trails and spots to "park" your ride all over our village, we present to you ten things to do within a six-mile ride from Bay Meadows.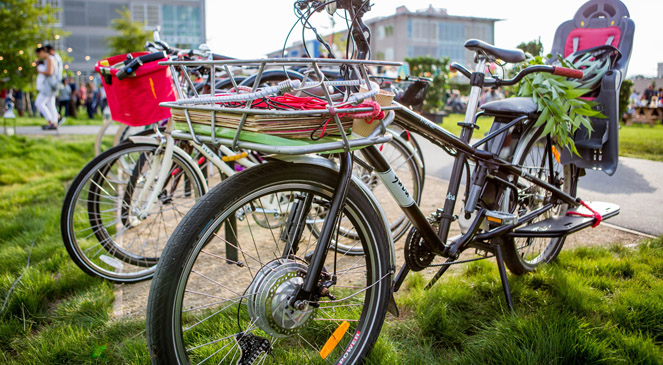 Visit 'em all at once or take 10 Saturdays to ride your bicycle to these fun places in our beautiful city. San Mateo's shared Bay Bikes are on-site at Bay Meadows, so you can roll anytime without owning your own!
Japanese Garden, Central Park, downtown San Mateo / 2.1 miles or 10 minutes – Park your bike while you take in the serenity of this local treasure. Learn more about the garden here.
Philz Coffee, 113 South B St. / 2.5 miles or 10 minutes – Charge your batteries with the tastiest single-cup-brew around. Be sure to grab an iced Philz Mint Mojito to cool down!
CREAM of San Mateo, 134 South B St. / 2.5 miles or 10 minutes – Reward yourself with one of CREAM's signature ice-cream cookie sandwiches.
KitchenTown Café & Kitchen Incubator, 1007 Howard Ave. / 4 miles or 20 minutes – Get inspired by local food producers and entrepreneurs in this beautifully designed space. And, then, order weekend brunch or a scone a Sightglass Coffee … just 'cause you can.
Whole Food Market, Park Place, San Mateo / ½-mile or 3 minutes – Fill up yur bike basket with some fresh flowers for the home or heal those aches and pains from biking all the way here with wellness products, such as epsom salts or arnica gel.
Coyote Point Recreation Area, 1701 Coyote Point, San Mateo / 4.2 miles or 22 minutes – If you've got the kids in tow on bike seats, explore the Magic Mountain Playground or just set up lunch at a picnic table by the bay.
Draper University, former Franklin Hotel, 2.4 miles or 11 minutes – Shoot a selfie in front of this popular hub for startup magic.
Talbot's Cyclery, 445 South B Street / 2.5 miles or 11 minutes – Pick up some accessories, a regional bike map, chat up the staff for their favorite rides.
The Fish Market, 1855 South Norfolk Street / 1.8 miles or 10 minutes – Wherever you biked today, wind it all down at this institution: clam chowder & a wedge salad! Peruse the menu before you get rolling.
Bike To Work Day Energizer Station at 1000 Franklin Pkwy, corner of Saratoga / .6 miles or 4 minutes – Do a practice run to the Energizer Station ahead of the Annual Bike to Work Day. Bring your smartphone  and practice your pose using #BTWSanMateo, we give away a PUBLIC bike each year and you could be the next winner!
Looking for a great place to ride? Bay Meadows and the surrounding San Mateo area are bike friendly and offer many different paths to ride and sights to see. Plus, Bay Meadows has a convenient bike map that you can download here, so you can decide exactly where to ride. Some resident favorites include the Bay Trail as well as Coyote Point Park, and here's a handy list of 10 sites within a six-mile bike ride. And join the Bay Meadows email list to stay on top of fun dates, such as Bike to Work Day!