10 Sites Within A 6 Mile Bike Ride
In the spirit of being a bike-friendly location, with plenty of open space to explore, easy access to scenic trails and spots to "park" your ride all over our village, we present to you ten things to do within a six-mile ride from Bay Meadows.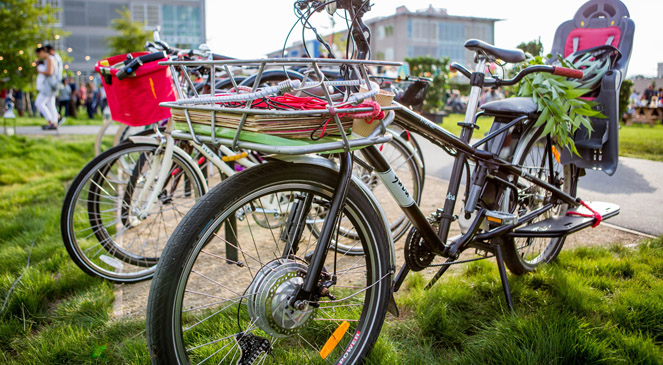 Visit 'em all at once or take 10 Saturdays to ride your bicycle to these fun places in our beautiful city. You'll see PUBLIC bikes, the official bike of Bay Meadows offered to our original homeowners as gifts rolling all around the neighborhood.
Japanese Garden, Central Park, downtown San Mateo / 2.1 miles or 10 minutes – Park your bike while you take in the serenity of this local treasure. Learn more about the garden here.
Hillsdale Shopping Center, Sixty 31st Ave. / .8 miles or 6 minutes – Take in a movie, hit the bowling alley or hang outside on the North Block, a destination all its own – Hillsdale blends luxury and lifestyle retailers, dining and entertainment.
Backhaus Bakery, 32 3rd Avenue / 2.2 miles or 11 minutes – Kouign Amann, anyone? Pick up all your favorite pastries, get a specialty loaf to go (hello mini chocolate sourdough), or pack a bag of freshly baked pretzels and baguettes for a picnic in the park. Backhaus Bakery's San Mateo flagship space is calling your name.
KitchenTown Café & Kitchen Incubator, 1007 Howard Ave. / 4 miles or 20 minutes – Get inspired by local food producers and entrepreneurs in this beautifully designed space. And, then, order weekend brunch or a scone a Sightglass Coffee … just 'cause you can.
Whole Food Market, Park Place, San Mateo / ½-mile or 3 minutes – Fill up your bike basket with some fresh flowers for the home or heal those aches and pains from biking all the way here with wellness products, such as epsom salts or arnica gel.
Coyote Point Recreation Area, 1701 Coyote Point, San Mateo / 4.2 miles or 22 minutes – If you've got the kids in tow on bike seats, explore the Magic Mountain Playground or just set up lunch at a picnic table by the bay.
Draper University, former Franklin Hotel, 2.4 miles or 11 minutes – Think big and shoot a selfie in front of this popular hub for startup magic.
25th Avenue, 194 W 25th Ave./ .9 miles or 5 minutes – Enjoy a low-key day of shopping and dining along 25th Avenue in San Mateo which offers a mix of independent shops and restaurants. If you're out on a Tuesday, you could catch the seasonal market from 3-7pm.
College of San Mateo Farmers Market, 1700 W Hillsdale Blvd. / 3.6 miles or 19 minutes – Greet the growers and shop seasonal goodness direct from the farmers themselves at College of San Mateo Farmers' Market – Saturdays 9:00 am – 1:00 pm, year-round.
Bike To Work Day Energizer Station at 1000 Franklin Pkwy, corner of Saratoga / .6 miles or 4 minutes – Do a practice run to the Energizer Station ahead of the Annual Bike to Work Day. Bring your smartphone and practice your pose using #BTWSanMateo, there are great giveaways every year and you could be the next winner!
Looking for a great place to ride? Bay Meadows and the surrounding San Mateo area are bike friendly and offer many different paths to ride and sights to see. Plus, Bay Meadows has a convenient bike map that you can download here, so you can decide exactly where to ride. Some resident favorites include the Bay Trail as well as Coyote Point Park. Join the Bay Meadows email list to stay on top of fun dates, such as Bike to Work Day!
*all distances and times are approximate based on Google maps